Wedding Party Flowers
Wedding Party Flowers
Flowers are one of the most important aspects of a wedding. They can tie in decor colors, bring life to a room, and help tell the story of your love. At FLOWER ME FLORIST, we design every wedding flower piece with you in mind, working to bring your vision to life. Your wedding will be filled with love, happiness, celebration...and beautiful flowers!

From boutonnieres to corsages to bouquets and more, you can trust us to create something special for the day you've always dreamed of. Designed by our experts, every piece from FLOWER ME FLORIST will be elegantly placed, down to the last petal. Take a look at the personal flowers you can find at FLOWER ME FLORIST.
Bridal Floral Hair Accessories
Add a delicate and enchanted touch to your bridal hairstyle with flowers! We'll create a sensational flower crown to go with your hairstyle, ensuring that the style matches and fits your aesthetic. Or we can gather some artistic and beautiful blooms for you to use throughout your hair. Whatever look you're going for, you can trust us to have the blooms you need!
Groom's Boutonniere
Bring the sophistication and elegance of flowers to your groom with a handsomely designed boutonniere! We'll ensure that it matches the theme and aesthetic of your big day. Accented with flawless flowers, your groom will make a stylish silhouette and be picture perfect while waiting for you at the altar.
Other Floral Accessories
Need more boutonnieres? Maybe some corsages or nosegays? No worries! We can take care of any floral accessory needs you have. We'll ensure that each floral accessory matches the theme and tone of your wedding. Using fresh and fabulous flowers, we'll make sure everything is as spectacular as your wedding!
---
Schedule a Consultation TODAY!
---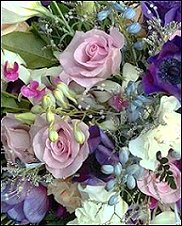 Your wedding day will be one of the most important days of your life, and your flower and bouquet choices require careful consideration. At Flower Me Florist, we take special care to ensure your Wedding Party Flowers reflect your individual style and budget.

Make a list of the members of the wedding party and the other people who will be participating in the wedding. Besides the bride and groom, this list should include the maid of honor, the other bridesmaids, the best man and the other groomsmen, the flower girl and the ring bearer, if any. Along with parents, grandparents, etc. these are all people for whom bouquets, corsages or boutonnieres should be provided.