Bridal Bouquets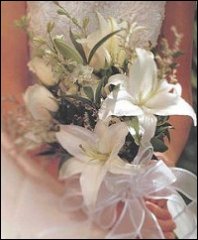 Call Flower Me Florist for ideas that make your dream wedding day memorable.

Brides-to-be receive the highest quality, professional design and customer service at Flower Me Florist. We tailor our services to your individual needs, as well as giving special attention to details that create weddings to remember.

The bride's bouquet should reflect the character of the bridal gown, and must not compete with or overwhelm it. Just because a bouquet may be small doesn't mean that it has to be ordinary, with exquisite types of flowers and gorgeously-detailed accents.

We can achieve a more personalized look by adding embellishments to your bouquet and bouquet handle with sparkling touches and accents, like crystals, pearls, berries, butterflies, rhinestones, fruit, feathers and almost anything else!